Модератор
14.12.2018
54 164
18 535
316
Устройство

Samsung Galaxy S21 Ultra
File Explorer EX - File Manager 2020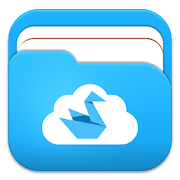 Краткое описание:
Файловый менеджер для Android
#1 File Management app ES File Manager/File Explorer is the ultimate File Manager for your Android Device.
Free, Safe, Simple, Manage your files efficiently
and easily with ES Explorer. ES File Manager is easy and powerful file explorer for Android devices. It's free, fast and full-featured.
Manage your files like you do on your desktop or laptop using Multiple Select, Cut/Copy/Paste, Move, Create, Delete, Rename, Search, Share, Send, Hide, Create Shortcut, and Bookmark.
With ES File Manager, you can easily manage your files and folders on your device and cloud storages. What's more, you can find how many files & apps you have on your device at a glance immediately after opening ES explorer.
● Root, FTP, SMB1 / SMB2, Sqlite, Zip, Rar, 7zip, DLNA/UPnP explorer
● Disk Map - see which files consume most space on your disk
● Cloud storage access: Google Drive™, Dropbox
● SSH File Transfer (SFTP) and SSH Shell
● App manager
● USB OTG
● Manage files from a PC web browser
● Favorite folders
● Thumbnails for images and video as well as for various file types (depending on associated application)
● Multi-selection - always available, yet not disturbing
● View APK files as ZIP
● Share - send files by Bluetooth, email, or whatever the device supports, from any location
● Configurable buttons and key shortcuts
● Seamless work with Zip (as if it was normal folder)
With ES Explorer at your disposal, you can do almost anything with your files, you have 100% control over your file system. Sometimes it can be frustating to find what you are looking for but with ES Explorer everything can be found easily organized.
Требуется Android:
4.2+
Русский интерфейс:
Нет
Разработчик:
Meditation Inc
Перейти на веб-сайт:
чтобы видеть ссылку, вы должны быть зарегистрированы
Google Play:
чтобы видеть ссылку, вы должны быть зарегистрированы
чтобы видеть ссылку, вы должны быть зарегистрированы
Последнее редактирование: