Модератор
14.12.2018
54 302
18 565
316
Устройство

Samsung Galaxy S21 Ultra
OCR Text Scanner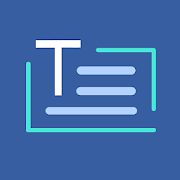 Краткое описание:
Распознавание текста на изображениях с высокой точностью (от 95% до 100%)
OCR-Text Scanner is app to recognize the characters from an image with high (95% to 100%) accuracy.
It turns your mobile phone to text scanner and translator.

Gave support for 55+ languages (Afrikaans, Albanian, Arabic, Azeri, Basque, Belarusian, Bengali, Bulgarian, Burmese, Catalan, Chinese (Simplified), Chinese (Traditional), Croatian, Czech, Danish, Dutch, English, Estonian, Finnish, French, Galician, German, Greek, Gujarati, Hebrew, Hindi, Hungarian, Icelandic, Indonesian, Italian, Japanese, Kannada, Khmer, Korean, Latvian, Lithuanian, Macedonian, Malay, Malayalam, Maltese, Marathi, Nepali, Norwegian, Panjabi, Persian (Farsi), Polish, Portuguese, Romanian, Russian, Sanskrit, Serbian (Latin), Slovak, Slovenian, Spanish, Swahili, Swedish, Tagalog, Tamil, Telugu, Thai, Turkish, Ukrainian, Urdu, Vietnamese)


Features of Text Scanner:

• Extract Text On Image
• Translate text to over 100+ languages
• Copy - Text on Screen
• Crop and Enhance image before OCR.
• Edit & Share OCR result.
• Scan history.
• Unlimited scans for English and other latin based languages.
• Upto 500 scans free then need to purchase to OCR on Non-Latin based languages.
Требуется Android:
4.2+
Русский интерфейс:
Нет
Разработчик:
Rishi Apps
Google Play:
чтобы видеть ссылку, вы должны быть зарегистрированы
чтобы видеть ссылку, вы должны быть зарегистрированы
Последнее редактирование: